By Diana Kay Middleton
In January of 2012 I received a call from my golf buddy, Eileen, about a cat that had been hanging out at a par 3 at the San Ramon Golf Course for several months. Her Husband, Gordie, had been driving 25 minutes to the course every morning for several months at first light to feed the cat and pet him. The cat would follow him to his car every day wanting to go home with him. A coyote had been spotted at the course so Gordie brought him home, but they could not keep him because they already had an elderly cat who would not take kindly to a stranger.
Eileen and Gordie took the cat to a Vet for a health check and shots and to a groomer to clean him up from the mud and dirt in his fur while living outdoors in the rain and cold weather. The groomer said he actually purred while getting washed. What? The Vet said he was a neutered male about 2 ½ years old.
Eileen begged me to take him since I had cats in the past and my house overlooks a park, walking path and a creek just 10 yards away. I said 'OK' and when She arrived, I looked down at him in the carrier and OMG, He was a great big, beautiful Maine Coon! It was love at first sight. We named him Mulligan because, as in golf, he was getting a second chance.
The Guys who play golf almost every day at the course told me that when they putted their ball, Mulligan would jump out and bat the ball around. Of course, they would shout "that was a birdie putt". So, they would have one golfer pick him up and hold him while the other 3 would putt their ball. When they set him back down, he would roll on his back and want tummy rubs.
Those regular guys also told me that the sand trap near the green was used by Mulligan for – guess what! Also, the Greenskeepers loved him because he was catching gophers for food on the next tee box!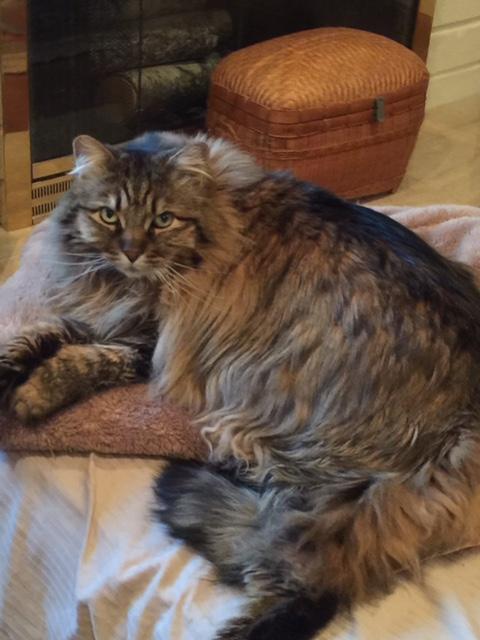 Since he had survived outside for several months, I didn't have the heart to deny him to go outdoors. He soon found that the pathway next to my house was used by neighbors to walk their dogs, Yikes! so he never ventured out there and stayed in my yard and in neighboring yards. When it was getting dark, I would call him, and he would come inside – just like a little dog!
About a week after living with me, he jumped up on the kitchen counter. I said 'no' he jumped down and never jumped up there again. Obviously, whoever had him before me had trained him well and he was a smart boy. I would love to know his history because he was afraid of garbage bags and large clothes baskets. I suspect his owner died and the heirs mistreated him so he hit the road and found a place where people would pet him. It seems that he needed love and attention more than food.
Mulligan always talked a lot and told me what he wanted. He would come and get me and ask me to follow him, walking down the hallway, stopping to look back over his shoulder several times to be sure I was following. He would take me to his litter box to be with him while doing his business. Or to go to his water bowl and want me there while he drank.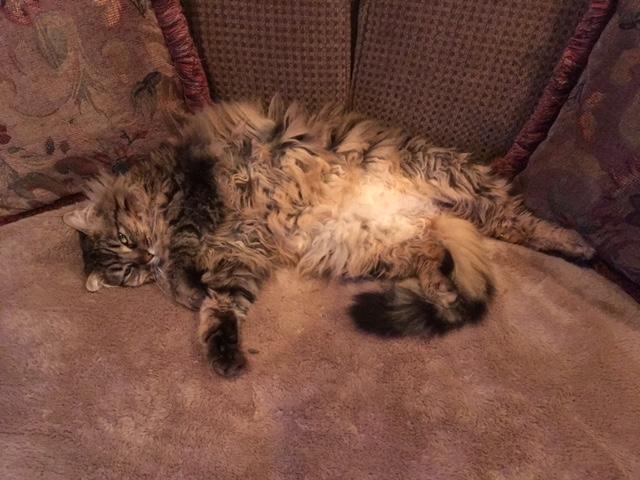 Mornings were filled with play to get tummy rubs. He would lay on my chest in the evenings while I watched TV. At night he wanted to cuddle as we fell asleep together.
On March 14, 2021, he was not his usual bouncy self, so I took him to the Vet. They did an Xray, then Ultrasound and found a large tumor blocking his intestines. He had emergency surgery that night. The test results revealed cancer in his spleen and liver also. The Veterinary Oncologist told me that he had only weeks to a few months to live.
About 5 days after his surgery, he was sleeping on the ottoman by my feet. I stood up and said "You haven't gone poopies today. You need to go". That cat jumped down from the ottoman and trotted down the hall to his litter box and pooped! I'm not making this up!
All my friends who are 'cat people' acknowledge that Mulligan was very special and not the typical cat. They would say the way he looks at me that he truly loves me.
In November 2021 he wasn't eating, didn't want to play or get tummy rubs so I took him to the Vet. She did an ultrasound, and the cancer was back in his intestines and other organs. She said he is the most amazing and strong cat to have survived with his cancer for way beyond what is normal.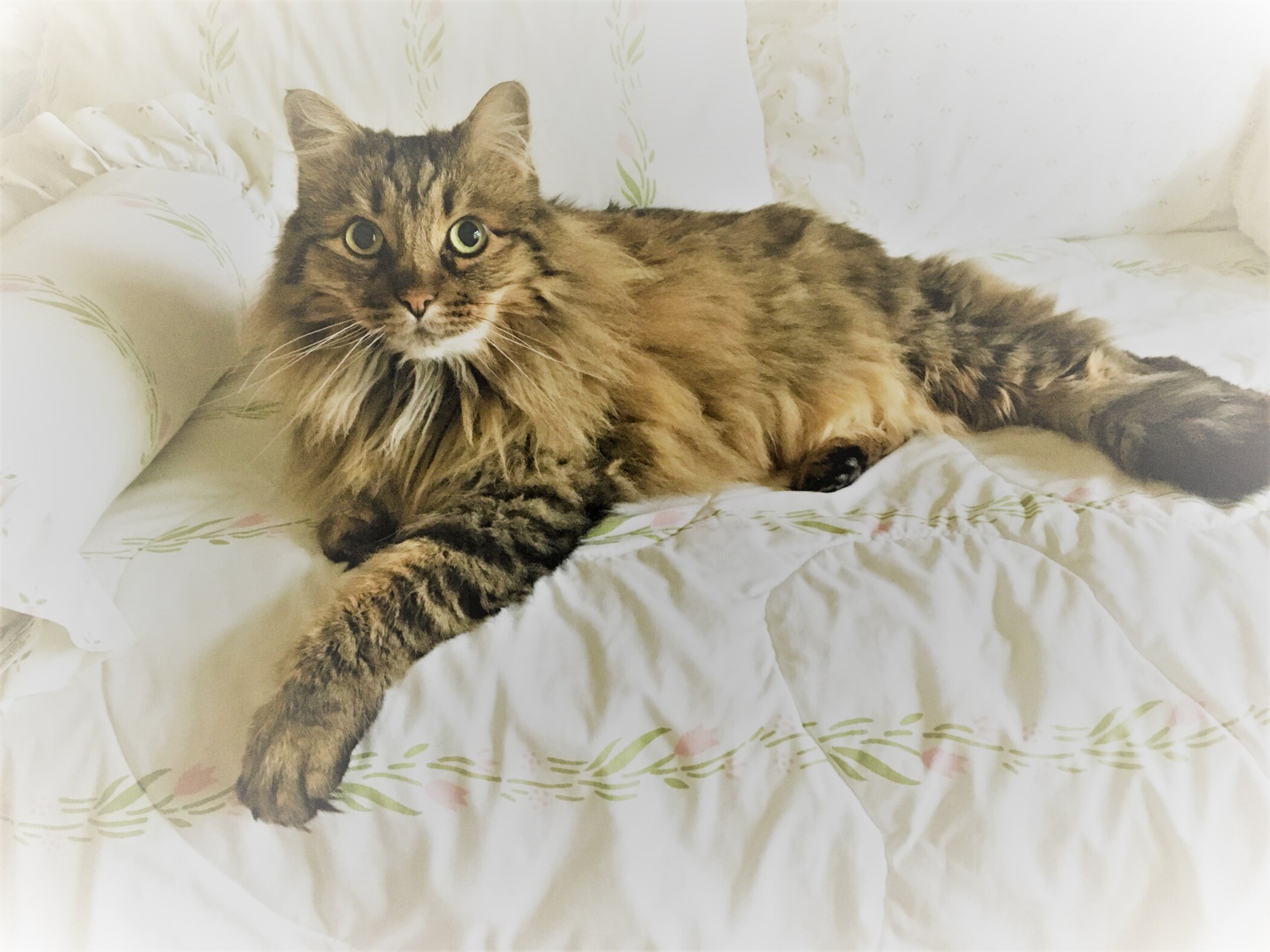 As I write this, it is December of 2021. The Vet came to my house to help Mulligan "Cross the Rainbow Bridge". He survived and lived a happy life for 21 months after his horrible diagnosis. We had 10 incredible years together.
I am beside myself with grief but will find another kitty when it is time, although Mulligan can never be replaced as he was truly 'one of a kind'.
By Diana Kay Middleton
We regularly write about all things relating to cats on our Blog Katzenworld!
My partner and I are owned by five cheeky cats that get up to all kinds of mischief that of course, you'll also be able to find out more about on our Blog
If you are interested in joining us by becoming a regular contributor/guest author do drop us a message @ info@katzenworld.co.uk .