Webinar: Avian Vet Insider: Parrots & Hormones – Is it Time for "The Talk"?
Date: Friday, March 4, 2022
Special Time: 11:00 am PST (double-check your local time with this time zone converter)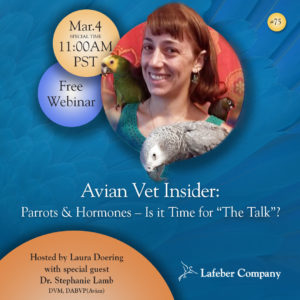 Join us for a FREE, live, interactive webinar hosted by Laura Doering, former editor of Bird Talk magazine and Birds USA magazine. Our special guest, Dr. Stephanie Lamb, DVM, DABVP (Avian Practice), will revisit a very important topic – hormones! Most behavior issues & many health issues for pet birds actually begin due to hormones. How do I recognize hormonal behavior & what can I do about it? Are birds more hormonal in captivity? Do I need to let my female bird lay eggs? Do I need to breed my pet bird? How can being hormonal be harmful for my bird? My bird loves to cuddle – how can this be a problem? Do you really see that many cases related to hormones? Dr. Lamb will answer these questions and more in this insider's view of the daily happenings at your Avian Vet's clinic.